NEW PROJECTS/ DEVELOPMENTS
West Fenway Tower
Located on the corner of Boylston Street and Brookline Avenue, this 22-story tower in the West Fenway will boast a mixture of studios, one, two, and three bedroom units and 45,000 square feet of retail space. The new development is proposed at $185 million and will be known as "The Point". In addition to the new tower, the proposed expansion includes wider sidewalks, street furnishings, landscaping, and lighting to the area. There will be no additional parking spaces in the area. The developer, Samuels & Associates, is also developing "Trilogy" on Brookline Ave, which will have sufficient parking for the two developments.
Contact an Associate
---
345 Harrison Street - South End
This project by developer Harrison Owner LLC and architects CBT Architects was proposed in a Letter of Intent to the city in June of 2013. The development is anticipated to consist of two multi-family residential rental buildings totaling approximately 515,000 square feet and 30,000 square feet of ground-floor retail space. The proposed development is still in early stages.
Contact an Associate
---
The Merano
The new construction of a $165-million project near the TD Garden will consist of a 210-room Marriott Courtyard hotel and 230 residential apartments. Restaurants and retail stores will be based on the ground level of the development. The Boston Development Group is heading the project, which was first proposed in 2008, but was subsequently put on hold due to the economic recession. Construction began in Spring of 2013 and is expected to last two years. The project is expected to bring more pedestrian activity to an already vibrant area, with more developments for this section of town either underway or being planned.
Contact an Associate
---
Tower Trio in West End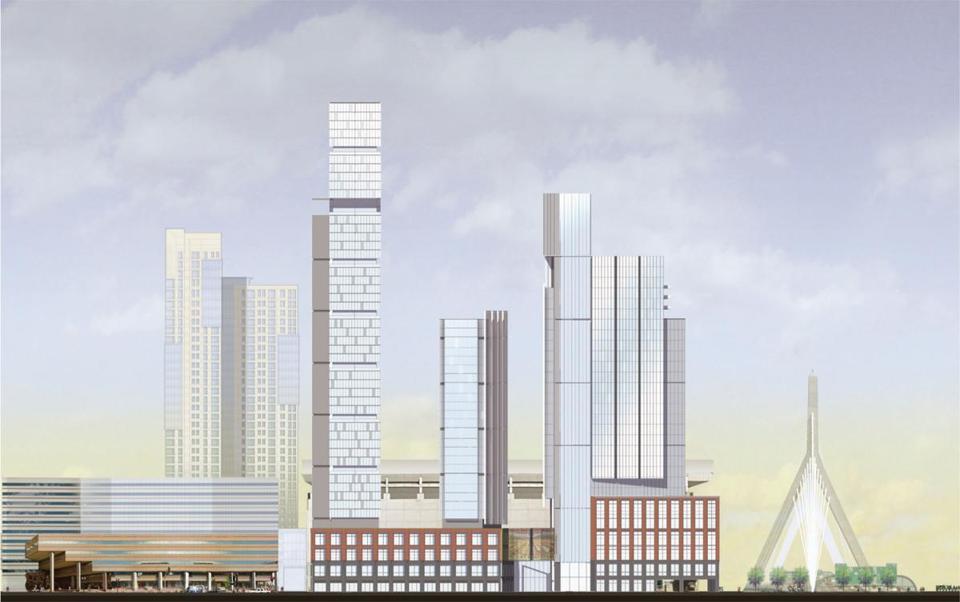 Delaware North, the owners of TD Garden, and developer Boston Properties are planning a new three tower development. One of the towers will consist of 497 residential units and be 600-ft tall. The second tower is being developed as a 320-foot hotel with 306 rooms, and the third tower would be an office tower of 420 feet. All told the whole development encompasses 668,000 square feet of office space, 142,000 square feet of flex space, 235,000 square feet for restaurant and retail, as well as 800 underground spaces. These new towers will be joining an already booming area of the city. The many parking spaces will help the residents and workers of Government Center, which is quickly becoming one of the most sought after areas of the city to develop real estate.
Contact an Associate
---
Eleven Fan Pier Boulevard
With 18 stories of floor to ceiling glass, this office building located in the Fan Pier area of Boston will offer outstanding views to tenants and visitors alike. In conjunction with Fifty Northern Avenue, another Fallon Company development, this development represents one of the largest private sector construction projects in the country, as well as the largest lease in the history of Boston. In addition to 1.1 million square feet of laboratory space and offices, 60,000 square feet of retail and restaurant space, and underground parking, this beautifully modern building offers a seventh floor outdoor terrace for private and public use.
Contact an Associate
---
Waterside Place
Waterside Place is the latest addition to Boston's vibrant and exciting Innovation District. The 350,000 square foot, $120 million, mixed-use project is ideally located at the corner of Congress and D Street; adjacent to the Boston Convention and Exhibition Center, the Seaport World trade Center complex, and mass transit; minutes by foot from a growing list of highly acclaimed restaurants and entertainment facilities; and featuring prime views of the Boston harbor and downtown skyline.
236 residential units, 10,000 square feet of retail space, and 8,000 square feet of innovation space combines sustainability on Boston's exploding waterfront, and will have on site parking with direct access to the World Trade Center Silver Line station.
Construction is planned for mid-2012 and when completed will include 236 residential rental units, 10,000 sq. ft. of retail space and an 8,000 sq. ft. innovation space.
Contact an Associate
---
The Lofts at Church Square, Jamaica Plain
This new development, slated to begin construction in summer of 2013, is the former Church of the Blessed Sacrament. New Atlantic Development will be fully rehabilitating the space for use as luxury residential condominiums. Part of the Blessed Sacrament Campus redevelopment, the Lofts at Church Square will be part of rental and homeownership housing, office, community, and retail space. Already a vibrant community, the Lofts will serve to add much needed residential space in this bustling part of the city.
Contact an Associate
---
One Channel Center
This 11-story, 525,00-square foot office building is being developed in the highly desirable Fort Point Channel area. It will be divided into two shifted volumes by a two-story pedestrian passageway connecting the offices to 2 new parks and a garage. The garage will be approximately 9 stories high, and have about 970 parking spaces. The new parks (New & Iron Street) will be approximately 72,000 and 9,000 square feet respectively, with multi-use turf grass lawn area, as well as space for other recreational uses.
Contact an Associate
---
The Inns on D Street
A pair of hotels have been approved to be built on D Street near the convention center in South Boston. The two hotels will be located on 6 acres, with one being 300 rooms and the other 180 rooms, called AloftHotel and the Element respectively. This area of South Boston, known as the D Street corridor, links the inner neighborhood of South Boston to the already booming Seaport area. These Inns have been in high demand as more and more restaurants and residences are opening along the waterfront. With this area quickly becoming a tourist hotspot, having a place to stay right in the area is a great idea.
Contact an Associate
---
338 Congress Street, Seaport
For the first time in 6 years, a Boston developer is looking to build condos in the Seaport District. Currently a parking lot located on the corner of Farnsworth St and Congress, Redgate Real Estate Advisors is in talks to develop the 4,939 square-foot parcel into an 8 or 9 story building of condos. If this proposal is approved, the building would hold approximately 50 units. Condos previously on sale in the area have sold for prices ranging from $300,000 to $3.1 million.
Contact an Associate
---
Christian Science Plaza Condominium and Hotel Tower
Approved on September 5th, a 691-foot condo and hotel tower is being erected at the edge of the Christian Science Plaza at the corner of Belvidere and Dalton. It will be the city's tallest residential building, spanning 58 stories. Shaped like an equilateral triangle with rounded corners, the new tower is designed to complement the Christian Science church, which sits adjacent to the construction site. The lead architect of the project, Henry N. Cobb, also designed the Hancock building, and principals of his firm designed the Christian Science Plaza and its iconic reflecting pool.
Also included in the 950,000 square-foot development plans is a neighboring 25-story tower, which will be comprised of 255 apartments. This building, as well as the condo and hotel tower, will also have retail and restaurant spaces. All told, the development will include 425 residences: 170 condos and 250 hotel rooms. Already a major destination in Boston, these new towers will bring floods of residents and visitors alike to the Back Bay.
Contact an Associate
---
100 Arlington Street, formerly the Renaissance School
Located in Park Square in the Bay Village area of the city, this former school is being developed into a 128-unit luxury apartment building. In addition to the apartments, the redevelopment will also include ground-floor retail, as well as a restaurant called Liquid Art House. The Congress Group, teamed with Related Companies, is planning a 14-story tall building. Originally planned as condos, the representative for the developers has confirmed that all units will be luxury apartments.
Contact an Associate
---
120 Kingston Street
Under construction for the past year, this 26-story, 240-unit apartment tower is located in the Chinatown area of Boston. The 240 units will be comprised of a mix of 18 studios, 175 one-beds, 43 two-beds, and 4 three-beds. Also included in the development will be 70 parking spots and 4,500-square feet of retail space. The ground floor will hold a restaurant with outdoor seating. In recent years, Chinatown has seen a high influx of developers to the area. Forest City and Hudson Group North America are developing this $130 million residential project. Construction is expected to be completed in the summer of 2014.
Contact an Associate
---
Portside at Pier One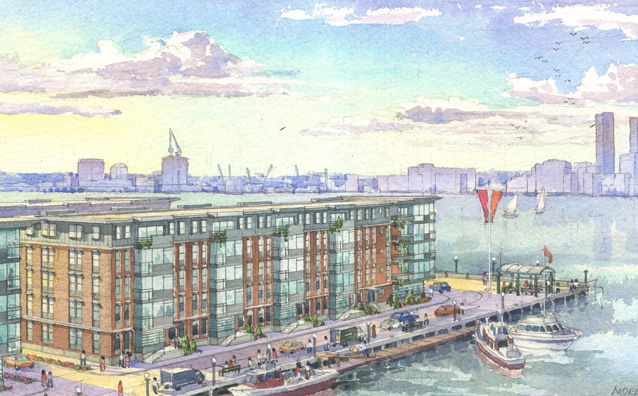 Construction is under way on this East Boston complex after years of delays. This massive development is expected to cover 26 waterfront acres, and be comprised of 566 apartments and condos, as well as retail and office space. Development will occur in stages, with the first stage including 176 apartments. 6 other buildings are expected to join this one. The developers, Mack-Cali Realty, have long wished to build in this area of East Boston. Expectations are high for the completed project, with many hoping that Eastie will become a new Innovation District.
Contact an Associate
---
Filene's Redevelopment in Downtown Crossing
Downtown Crossing has quickly become one of Boston's hottest new residential areas, with the success of Millennium Place showing just how much the neighborhood has changed. The next development from Millennium Partners, the company behind the Ritz Carlton Residences and Millennium Place, is on the site of the former Filene's basement. The Filene's redevelopment project promises to be one of the most ambitious building projects in downtown Boston, and is slated to become a 50+ story complex comprised of offices, stores, and luxury homes when all is said and done. The new $630 million complex will commence with the building of new retail and office space on the site. Once completed, the developers will begin the construction of the 50 story tower comprised of apartments, condominiums, and additional retail space. The main residential tower is slated to contain 450 luxury residences and 95,000 square feet of retail space.
Plans for the building show a beautifully designed glass tower which will add another gem to the Downtown Crossing area and turn the area into Boston's hottest location for new construction luxury condominiums. With luxury buildings like the Ritz Carlton Residences, Millennium Place, 45 Province and others selling fast, the sky seems to truly be the limit in Downtown Crossing.
Contact an Associate
---
Lovejoy Wharf
Located at 131 Beverly Street near Boston's North Station, Lovejoy Wharf promises to bring luxury waterfront residences and offices the area. Perhaps most exciting for current and potential residents of the area is the proposed 42,619 square feet of new open space that the project is slated to create along the waterfront. Plans for the space include a visitor's center, floating docks, a Harborwalk extension, and a public water transportation/ferry facility.
Developed by The Related & Beal Companies, this mixed use property is set to comprise of 104 condos,187,000 square feet of office space, retail space, and restaurants, as well as a public park. Located right on the harbor, the 14-story residential tower will offer residents stunning views of both the city and the bay. With 315 planned parking spaces, this promises to be a huge development on one of the last privately owned wharves in the city of Boston. Residents will enjoy access out the front door to the Harborwalk, easy access to North Station T, and a short walk to the North End, West End, and Massachusetts General Hospital Campus. Directly between the Zakim and Charlestown bridges, Converse has already signed a lease to occupy much of the commercial space in the development, seeing the unbelievable potential of this project.
Contact an Associate
---
34-40 Chestnut Ave, Jamaica Plain
This development will feature 8 new construction floor-thru units and duplex condos with covered parking in Jamaica Plain. These 2+ and 3+ bedroom homes will all have a modern interior design, as well as gorgeous outdoor spaces including terraces, roof decks, and even some patios overlooking the community gardens.
Square footages of these condos will range from 1070 for the smallest 2+ bedroom layout to 1900 for the largest 3+ bedroom layout. The developer plans for each home to feature open kitchens with stainless steel appliances, beautifully tiled baths, hardwood floors, central a/c, and in-unit laundry. With easy parking and convenient bike storage also slated for the building, this project offers a great value and unbeatable comfort for city living. Mere minutes from Jackson Square T station on the orange line, this development offers the ultimate in convenience for city commuters. Other nearby amenities include Southwest Corridor Park, beautiful bike paths that connect to downtown Boston, and numerous convenient shops and restaurants.
Current prices range from $399,000 to $679,000. These units are currently being offered a pre-construction pricing, so it's worth it to act fast! Contact an Associate on. Expectations are high for the completed project, with many hoping that Eastie will become a new Innovation District.
Contact an Associate
---
Barry's Corner, North Allston
This development, slated at the intersection of Harvard Street &amo; Western Avenue, is set to include two buildings between six and nine stories in what's known locally as Barry's Corner. The 350,000-square foot project is being developed by Samuels Associates, a major Boston developer, and is set to include 325 apartments and 45,000 square feet of retail space. The scale of this project is big enough to transform the neighborhood, and the 45,000 square feet of retail space has the potential to entice grocery stores, restaurant, coffee shops, and other conveniences that are of particular interest to potential residents of the building.
Other details that have been provided by the developer include plans to build 180 underground parking spaces, and 3,600 square feet of open space or park for public use. This new development is sure to rejuvenate North Allston, bringing new restaurants, shops, and pedestrian-friendly space, as well as hundreds of new residents. While Harvard continues its efforts to turn this area into a satellite campus over the next 10 years, this area is sure to see a dramatic renaissance, with Barry's corner playing a big part. Details of the apartments are forthcoming, but with dining, shops, parking, and plans to create wide sidewalks, parks, and a revitalized streetscape, Barry's corner is sure to offer a dynamic atmosphere.
Contact an Associate
---
Fenway Triangle Trilogy, 180 Brookline Ave
Located in the electric and eclectic Fenway, this 1 million-square foot development boasts 405 studios, 1, 2, and 3-bedroom apartments, as well as 171 apartments reserved for Harvard Medical Center students and faculty. This first class building features all of the amenities you would expect of a recently built luxury apartment building, including underground parking, a business lounge, billiards, resident-only exercise classes, a beautiful park-size courtyard, and 24-hour security and maintenance. But that's not even all, as the building also offers concierge services and a full fitness room.
Homes in the building feature state-of-the-art kitchens, open layouts, spacious bedrooms and views out and over the surrounding streets (Boylston Street, Brookline Avenue and Kilmarnock Street.)
As you would expect from its Fenway address, the Triangle Trilogy is close to the best attractions the city has to offer, including the MFA, Regal cinemas, The Fens, numerous restaurants, Fenway Park, and exciting nightlife.
Contact an Associate
---
1330 Boylston
This luxury apartment building located in the rapidly changing Fenway is the perfect home for anyone looking for luxury living in Boston. The recently constructed building offers an unbeatable list of 24-hour amenities, and the units are truly second to none. Building amenities include a 24-hour fitness center, concierge services, on-site maintenance, on-site management, garage parking, resident Club Room, and, arguable best of all, a rooftop deck, pool, and lounge.
Units in the building range from 1, 2, or 3 bedroom apartment layouts, each luxuriously equipped. Kitchens in the units boast stainless steel appliances, granite countertops, and European styled cabinetry. Living areas offer floor-to-ceiling windows and bamboo wood flooring. Bedrooms offer walk-in closets, baths with designer granite and stainless steel vanities, ceramic tile flooring, and large bathtubs. Units feature in-unit HE washers and dryers, and individually controlled heating & AC. Additionally, he stunning penthouse units in the building offer 10 foot ceilings!
1330 Boylston offers uncompromising luxury in a vibrant area of the Fenway, just steps from museums, restaurants, shops, and parks, and with easy access to all that Boston has to offer.
Contact an Associate
---
50 West Broadway
This recently built apartment building in South Boston has become a magnet for the many Young Professionals and families who are flocking to the neighborhood. 50 West Broadway offers easy access to the all of Boston in a neighborhood with one of Boston's fastest growing restaurant and nightlife scenes. 50 West Broadway is within steps of the best restaurants that South Boston has to offer, and is directly across from the Broadway station on the red line for an easy commute.
Each unit is tastefully appointed with gourmet energy efficient kitchens, including stainless steel appliances, granite countertops, and high end cabinetry. Every apartment in the building features floor to ceiling windows and 9 foot high ceilings. Building amenities include concierge services, washer/dryer in each unit, a 24-hr fitness facility, bicycle storage, parking, and private outdoor courtyard. The community room comes equipped with Wi-Fi, Flat screen TV, and a top of the line kitchen, which can be rented out to residents for private functions. This building offers full time on-site managers from an award winning Management Company.
Contact an Associate
---
AvalonBay Stuart Street Tower
This luxury high-rise tower located on 41-45 Stuart Street is poised to transform an already hot neighborhood. Boston's Theatre District, first rejuvenated by the arrival of the W Boston Hotel and Residences, will soon be transformed by this 404-unit, 29-story apartment tower. The $125 million project will include a 5 story parking garage, and Studio, 1, and 2 bedroom condos. The developer, AvalonBay, already boast impressive portfolio of real estate developments in the greater Boston area. The 5 story "glass curtain" façade will offer an exciting architectural addition to the cityscape, and will serve to tie together the Downtown, Chinatown, and Theater District neighborhoods. The first 5 floors of the building will house 198 valet parking spaces for residents and public parking spaces, as well as public passageway which will connect Stuart Street to Lagrange Street.
Located next door to the famous Jacob Wirth building, Boston's second oldest restaurant, and in one of Boston's most exciting new neighborhoods, residents of Stuart Street Tower will be living at the heart of the action in Boston. With easy highway access and a neighborhood with limitless potential, the 29 story condo tower at 41-45 Stuart Street promises to be an exciting addition to Boston's skyline and urban landscape.
Contact an Associate
---
The Kensington
Enjoy Green Living in this eco-conscious new construction luxury high rise located at 659 Washington Street. Located in Downtown Boston, the 381 apartments in this 27-story tower come in a wide array of one and two bedrooms layouts, as well as penthouses.
Located at the intersection of Chinatown, Downtown Crossing, and the Theatre District, residents will enjoy convenient access to all that Boston has to offer, as well as an open air heated pool on the 6th floor. Living in this $188 million project means belonging to your own exclusive club, Club Kensington, located on the 6th floor, where residents can work out, hang out, or chill out and relax. 24-hour concierge service provides you with complete amenities, all while knowing that you're doing what's best for the environment in this LEED Gold certified building.
The project is scheduled for completion in the summer of 2013, and will include 2-3 small retail shops at the ground floor of the building.
Contact an Associate
---
Trinity Stuart LLC Project
This $225 million project near Copley Square is slated to feature a 400-foot, 35 story tower containing a 220-room boutique hotel, 142 condominiums, 100 parking spaces, and multiple "neighborhood-focused" restaurants. The complex will be located at the site of the former John Hancock Hotel and Conference Center and will add another beautiful glass tower to the Back Bay's skyline.
Currently named the Boston Common Hotel & Conference Center, the new project slated for the site of this hotel promises to bring even more activity to the area of Back Bay that currently houses The Clarendon Residences, Liberty Mutual's new headquarters, and much more. The developers have grand ambitions for the property, and hope to create a building that will become a hub for neighbors, office workers, and visitors to the Back Bay.
Contact an Associate
---
Weiner & Samuels Back Bay Project
This towering $360 million hotel, residential, and retail complex in the Back Bay promises to completely change the local landscape. Located at the intersection of Massachusetts Ave and Boylston Street above the Mass pike, this 400-foot high, 32 story complex will include 230 residences, 270 hotel rooms, and 50,000 square feet of retail space spread out over two buildings. With easy access to Hynes Convention Center, Newbury Street, and the rest of Back Bay, this project offers enormous potential in one of the last undeveloped areas of Back Bay.
What is more, the developer may decide to grow the size of this already enormous project even further. Those considering the development can rest assured that the developers are known for excellence, as they have previously developed the Mandarin Oriental hotel, retail, and residential complex on Boylston Street and many of the luxury apartment structures in the Fenway.
Contact an Associate
---
The Ink Block
Ink Block in the South End is one of the largest new developments planned in the city. Offering an unbeatable combination of a prime location and outstanding amenities, this development is sure to bring new life to one of the quieter areas in the South End. This 471 apartment building intends to offer a new level of luxury and convenience to its residents, as well as many spin-off benefits to the neighborhood as a whole. The four residential buildings will feature 1 to 3 bedroom luxury apartment homes in a state-of-the-art, architecturally designed building, located at the corner of Harrison Ave and Herald Street, will be built on the site of the old Boston Herald headquarters.
The developers' plans are very ambitious, and will allow residents to enjoy a wide range of amenities, including a rooftop pool and deck, a private theater, a state-of-the-art fitness center, and underground parking. The project also calls for 85,000 square feet of retail development alongside the gleaming 9 story apartment high-rise. Tenants for the retail space are already lining up, and will include a Whole Foods market, a high end coffee shop (name to be determined), Bike Central spinning company, and various other conveniences, all located right outside your front door. This exciting development promises to bring a new level of vibrancy to the South End, which is already one of the most desirable neighborhoods in the city.
Are you ready to Think Ink?
Contact us
Contact us today to learn more about this exciting new living opportunity at the heart of the South End.
Contact an Associate
---
Millennium Place
Millennium Place is a brand new luxury condo building, featuring 256 condominium residences in the heart of the city of Boston. This unique project is scheduled to be completed in the fall of 2013, but once completed its 15 stories will feature one, two, and 3 bedroom units ranging from 775 square feet to 2,360 square feet. The gleaming glass tower will rise 606 feet above the surrounding buildings.
Located in the heart of the Boston's Downtown Crossing neighborhood, Millennium Place is being built in the iconic former location of Filene's department store. Situated just a block off of the common, Millennium Place is adjacent to the recent Avery Street developments, which begun with the Ritz-Carlton Hotel and Towers, the Loews Theatres, and Sports Club/LA. Millennium Place will offer an unmatched convenience for urban denizens, boasting direct MBTA access, and countless restaurants, nightclubs, pubs, and shops all just moments away in Boston's busy Downtown Crossing neighborhood. Or, walk one block up Avery Street to enjoy a relaxing walk on the Boston Common.
Millennium Partners, the developers behind the project, are investing $8.5 million dollars in two luxury condominium buildings, but their investment will also help pay for new water and sewer lines, new sidewalks, street lights, and an MBTA station elevator for Downtown Crossing. The developers plan to offer 5 star treatment for owners in the building, complete with a 24 hour private concierge, and their "la vie" social network program, which promises exclusive, VIP access to some of the city's top social and cultural attractions. Residents will also enjoy access to unique members-only social events that will be organized and held in the building.
Contact an Associate
---
The Victor
The newest residential project coming to the historic Bulfinch Triangle is an ultra-luxury apartment tower featuring 11 stories of glass and steel construction studio, 1 and two bedroom apartments. Located at 195 Haverhill Street, the project is scheduled for completion in the summer of 2013 and will offer modern luxury amenities and personalized services in a LEED Silver certified green building.
The building will be situated on the Greenway, adjacent to the TD BankNorth Garden and just a short walk from all of the dining, shopping and entertainment of some of Boston's best neighborhoods including the North End, West End, Beacon Hill, Financial District, and Faneuil Hall. The building will sit atop the MBTA tunnel and will offer direct access to the North Station T, as well as convenient access by car to Route 1, I-93 and the Zakim Bunker Hill Memorial Bridge.
These new construction luxury apartments will boast an elegant front desk and concierge service designed to provide residents with a personalized level of attention. Other building amenities will include a resident lounge boating expansive city views, a 5000 sq. ft. gym, and 121 garage parking spaces.
The 286 units will feature kitchens with granite counter tops, custom Italian Wenge-finish cabinets, and stainless steel appliances. Bathrooms will boast modern finishes, ceramic tile and hotel-style vanities. Hardwood flooring in the main living areas and large windows will make for the ideal environment to live a luxury lifestyle in the city. The building will also feature 2 floors of elegant penthouse units with private access, upgraded finishes, and a private rooftop lounge for the ultimate in luxury Boston apartment living.
Contact an Associate
---